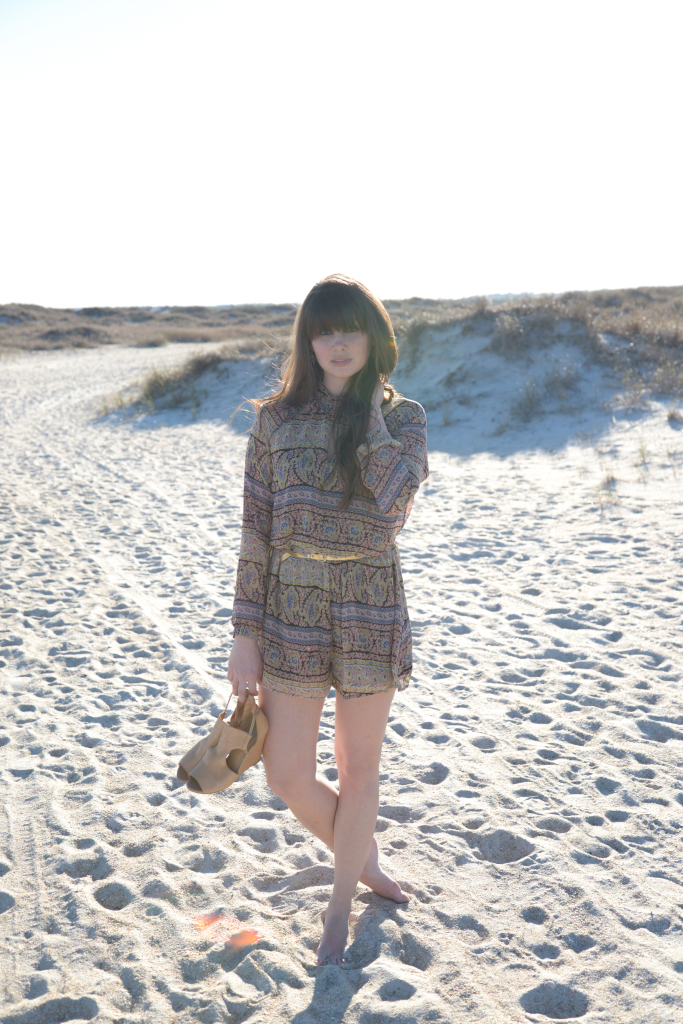 I talk a lot about 'magical moments' and times when I am so completely content with my life that nothing negative can possibly touch me. This weekend at the beach nearly topped all of my other moments I've had. Once our day was wrapping up, Ryan and I walked down to the quieter end of the beach, and wandered through the dunes just in time for the sun to start setting.
We started walking through the sand dunes just as dusk was approaching, and by the time we made it out to the shore, the sun was sitting just above the water. The reflection of the sun beaming down on the water was absolutely breathtaking.
There's something about the sun setting that is so mysterious. Everything looks full of promise and hope, full of romance and contentment. Ryan and I sat right by the ocean, listening to the waves crashing on the shore to take it all in. Just as the sun was about to sink into the ocean, all you could see were outlines of those around us. Couples holding hands taking a stroll on the beach, a lone boy setting up his fishing rod, and dogs prancing through the ocean. It was one of those moments where Ryan leaned over and said he wished life could just be this beautiful all the time. I couldn't have agreed more.
On a less serious note, I'm absolutely in love with my earrings in this post! They are part of Endless August's Lady Bohemia Collection – simple yet just enough to pull my look together. Be sure to check out Endless August's entire collection here, and use the promo code matimes to receive free shipping on your order! You can see my other post about them here.
Photos by Ryan Sides
---
SHOP THE POST
ENDLESS AUGUST EARRINGS C/O :: FOREVER 21 ROMPER :: CYNTHIA ROWLEY WEDGES (OLD, LOVE THESE TOO) :: GOLD BELT (SIMILAR)
---
*This post was written in collaboration with Endless August. All views and opinions are my own.