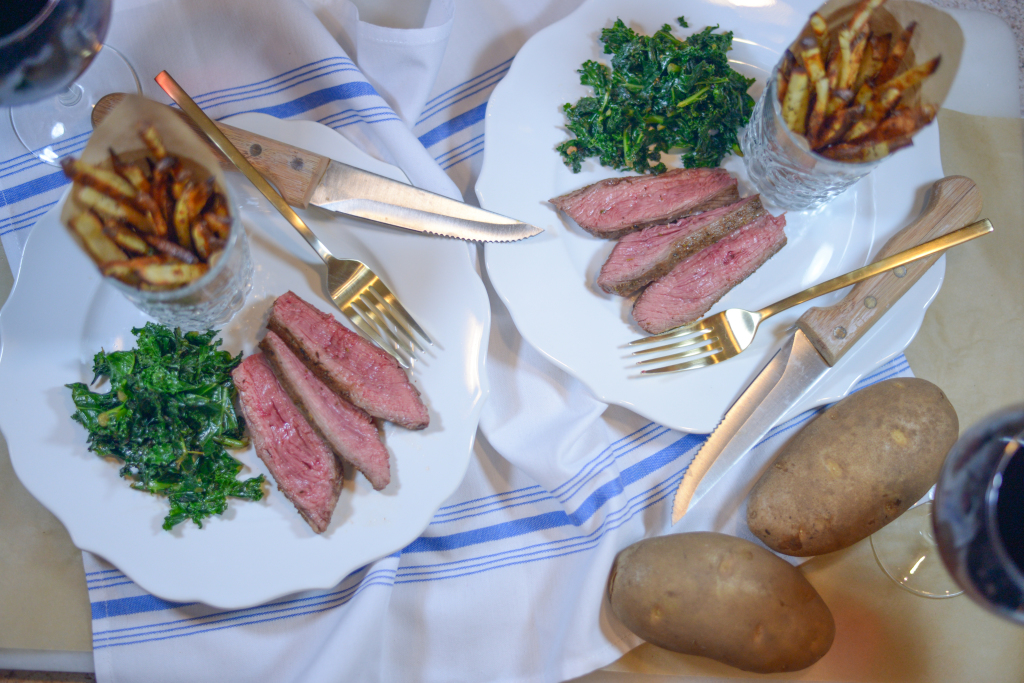 A couple of weeks back, I posted a recipe  from one of my favorite new cook books, Cooking Light's A New Way to Cook Light. Ryan and I made our second recipe from this book this past weekend and it was one of the most flavorful, yet healthy meals. The meat was seasoned to perfection, the kale was so tasty I didn't even mind eating it – and any meal where french fries are allowed on your plate is a winner in my book. It was super simple and only requires a few ingredients and spices you may already have in your pantry.
Ingredients
For Fries:
1 lb baking potatoes, cut into 1/4″ strips
1 tbsp olive oil
1 tsp hot sauce
3/4 tsp dried thyme
1/4 tsp garlic salt
cooking spray
For Steak:
1 lb flank steak, trimmed
1/4 tsp salt
1/4 tsp garlic powder
1/4 tsp dried thyme
1/4 tsp dfried oregano
1/8 tsp ground cumin
1/8 tsp paprika
1/8 tsp chili powder
1/8 tsp ground red pepper
1/8 tsp freshly ground black pepper
For Kale:
1 tbsp olive oil
1 garlic clove, minced
1 lb kale, stemmed and shredded
1/4 c water
1 tsp red wine vinegar
1/4 tsp salt
1/4 tsp grond black pepper
Recipe
Preheat oven to 500 degrees. Toss fries in olive oil and hot sauce. Add thyme and salt, toss to well coat. Place on a baking sheet coated with cooking spray. Bake for about 40 minutes (flipping halfway through), or until golden brown.
To prepare steak, mix all seasoning ingredients together, and coat both sides of steak with spice blend. Place on a broiler pan coated with cooking spray, and broil about six minutes on each side. Cover and let rest for about 5 minutes before slicing diagonally.
For kale, heat a large skillet with olive oil and garlic over medium heat. Add kale and water, cook for about five minutes. Remove from heat, stir in remaining ingredients and serve.