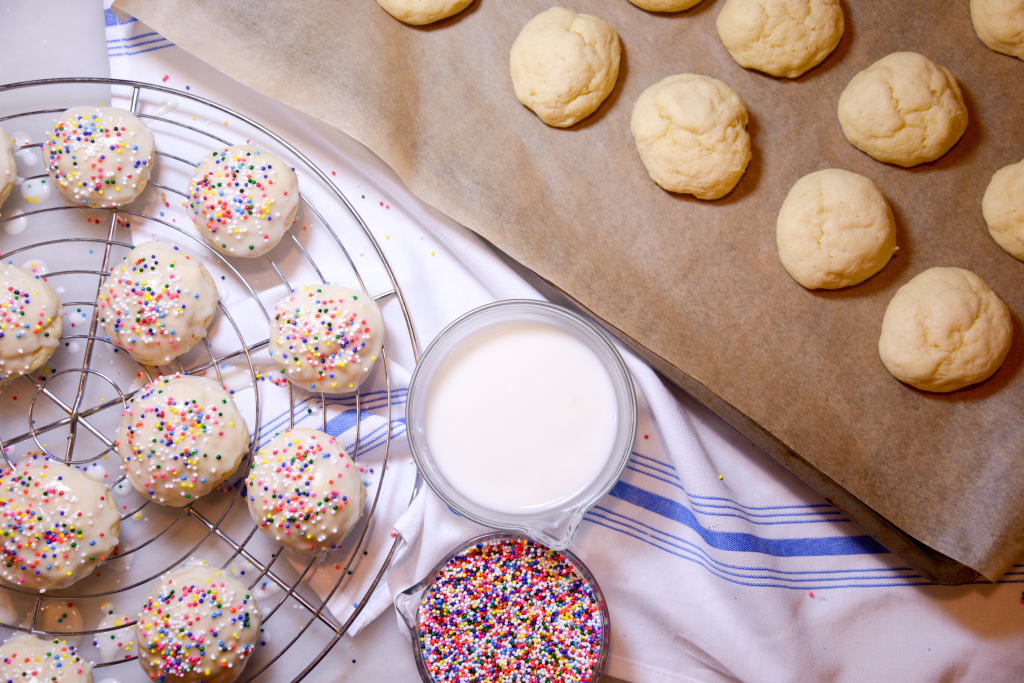 It's no secret at this point that I have a serious cookie additions. Chocolate chip, snicker doodle, sugar – I love them all. When I came across this recipe on Pinterest, I knew I had to test it out. Not only does it have "Italian" in it (my heritage), but it's also covered with sprinkles and looks like spring. How can you beat that?
Ingredients
For the cookies:
2 stick (½ pound) butter, softened
1¾ cup granulated sugar
2 eggs
1 container (15 oz.) ricotta cheese
2 tbsp. vanilla extract
4 cups all-purpose flour
1 tsp. baking powder
1 tsp. baking soda
For the glaze:
4-5 tbsp. milk
1½ cups powdered sugar
1 tsp. almond extract
Sprinkles
Recipe
Preheat oven to 350 degrees F. Cream together butter and sugar. Add eggs, ricotta cheese, and vanilla extract until well combined. In a separate bowl, combine flour, baking powder, and baking soda. Slowly mix dry into wet mixture until well combined.
Place teaspoon size balls of dough on baking sheet. Bake for 8-10 minutes, until bottoms are golden brown. Let cool.
Mix glaze ingredients until smooth. Dunk top halves of cookies into mixture, and sprinkle with sprinkles immediately. Let harden.