[thefeedproducts style='four']
TURTLENECK SWEATER :: CANDLE :: PLUSH THROW :: MITTENS :: LETTER PILLOW :: KNEE SOCKS :: FRINGE SCARF :: DRYBAR SET :: LIP BALM :: NARS MAKEUP SET :: INITIAL KEYCHAIN
The last gift guide of the season is here! Can you believe Christmas is next week already? But let's be honest: as much as we would all like to buy everyone in our family cashmere sweaters and designer handbags for Christmas, sometimes it just isn't in the budget. At this point in the shopping game our wallets are feeling a little bit stretched, leaving us stressed with still names and gifts to cross off our lists!
Not to worry, that's why Nordstrom has curated the best gift guides to fit everyone's budgets. It's the first place I always turn to do my Christmas shopping – they have the best selection of items for everyone and a wide range of price points. Even their items under $50 are all incredibly special and unique. I've picked out my favorite gifts for her under $50 here, but be sure to check out Nordstrom's full gift guide for under $50 here, and under $25 here. And not to worry, there's still plenty of time to order and get your gifts for the holiday! See the chart below for details!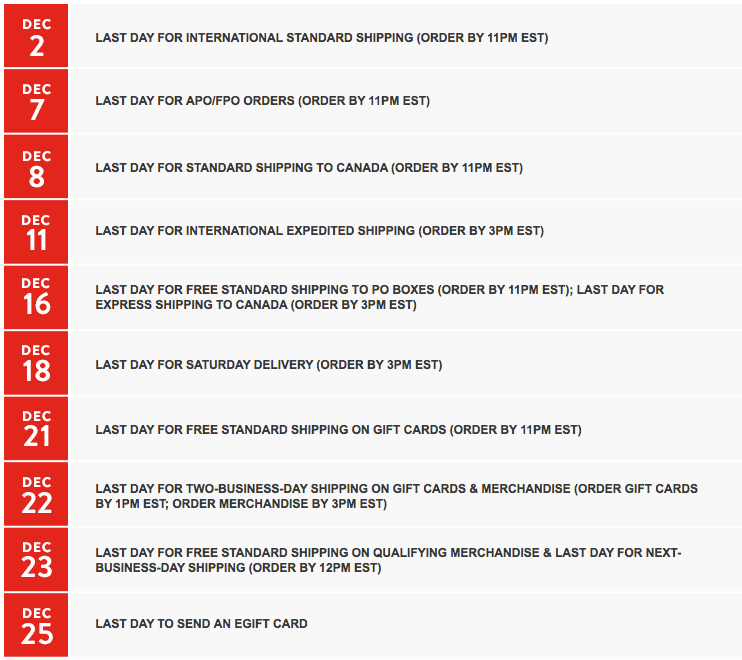 *image via Nordstrom website. See here for details or any changes.
 SHOP THE POST
[thefeedproducts style='four']
TURTLENECK SWEATER :: CANDLE :: PLUSH THROW :: MITTENS :: LETTER PILLOW :: KNEE SOCKS :: FRINGE SCARF :: DRYBAR SET :: LIP BALM :: NARS MAKEUP SET :: INITIAL KEYCHAIN