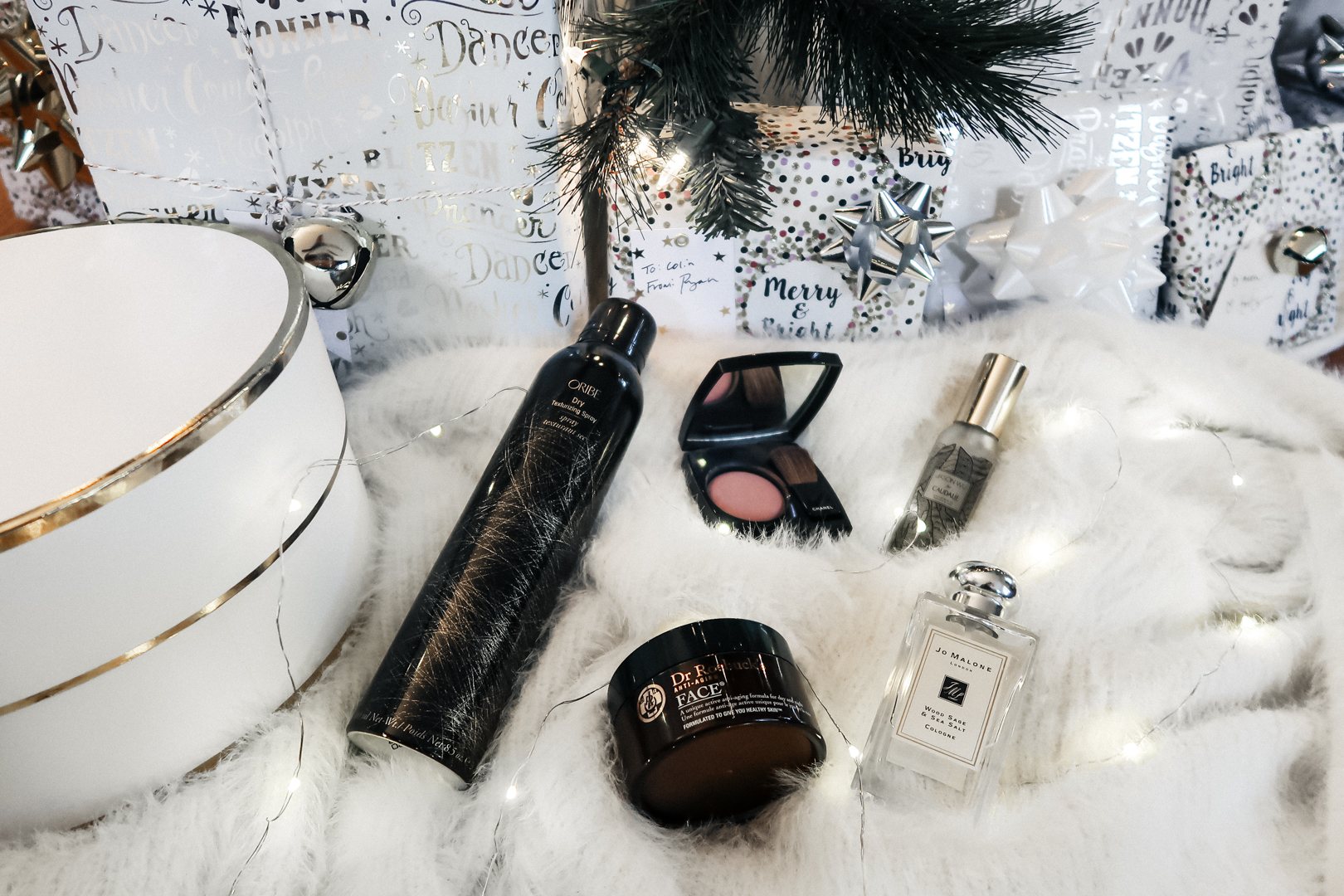 I'm so excited for this gift guide for the beauty lover! It's packed full of all of my favorite products. I personally have tried and use each and every one of these. I've included my favorite hair products, makeup selects, and skincare. I can say with 100% confidence that you can't go wrong with any of these picks for the beauty guru in your life!
Be sure to visit the Holiday Shop to see the rest of my gift guides – they'll be going up every Wednesday and Saturday until Christmas!
1 / Face Mask – I've tried several face masks, and this is one of my favorites! Though you can't really go wrong with any brightening mask, this one in particular seemed to have amazing results.
2 / Beauty Blender – Such a good stocking stuffer! Even if who you are shopping for already has one, chances are, they will need a replacement soon. Save them the $20 and gift it to them instead!
3 / Dr. Roebuck's Moisturizer – This is tied for a top spot in my moisturizers. I like to slather this one on at night, or in the morning if I'm having a "no-makeup" day. It's super rich and creamy, and smells amazing!
4 / Perfume Set – I have one full size and several sample sizes of Jo Malone perfume, and I've always been impressed. Jo Malone fragrances are meant to be layered, so I love the idea of gifting several at once, so they are able to come up with their own personal scent.
5 / Face Mist – I've talked about this product before, but it's one of my favorite face mists. It's definitely on the pricier side for what it is, but it's a nice luxe gift to give to a friend or put the mini version in a stocking.
6 / Dior Lip Balm – I've used one lip balm (see #7) for years, and while I still love it, I recently discovered this once. I've only tried a sample size of it, but was highly impressed! It's a nice little something that she may not splurge on herself, but would love to get as a gift.
7 / Sugar Lip Balm – As I mentioned, this has been a long-running favorite. Everyone who uses it gets automatically hooked! I've never found a lip balm that can combat chapped lips quite so well.
8 / Chanel Hydra Beauty Creme – This is another product I have only tired a sample size of (due to the price tag) but can say I'd be over the moon to receive it as a gift. It's perfect for an ultimate pampering – I'd never woken up with such soft and supple skin.
9 / Body & Hand Cream – I've been using this product for the last several months and the texture of my skin has changed drastically. It's so much more hydrated and soft. I love keeping the large tub next to my bed to slather on before I go to sleep.
10 / Curling Wand – I get so many questions about how I curl my hair, and this wand is my secret! It's definitely an investment, but worth it. If you need a larger gift for a beauty lover, look into upgrading her hair tools to this set.
11 / Blush – Makeup is always a challenge to buy for someone unless you are familiar with their skin tone. If you're able to do so and looking for something luxe to give, this blush has been my favorite "high-end" makeup purchase. The price tag was a bit hard to swallow, but I reach for this every day and can't recommend it enough.
12 / Texturizing Spray – If you buy one thing on this list, this is my top pick! I can't say much about it except for that it's magic in a bottle. Talk about instantly giving your hair volume and making it looked styled in an instant. While your at it – grab one for yourself. You won't regret it!
13 / Skincare Gift Set – I often struggle to find decent gift sets, but this one from Darphin is worth the price tag. Though I switch out my moisturizers, I consistently use a full range of Darphin skincare every night and it's my favorite I've discovered so far. This set contains all of my favorites!
Shop the Post