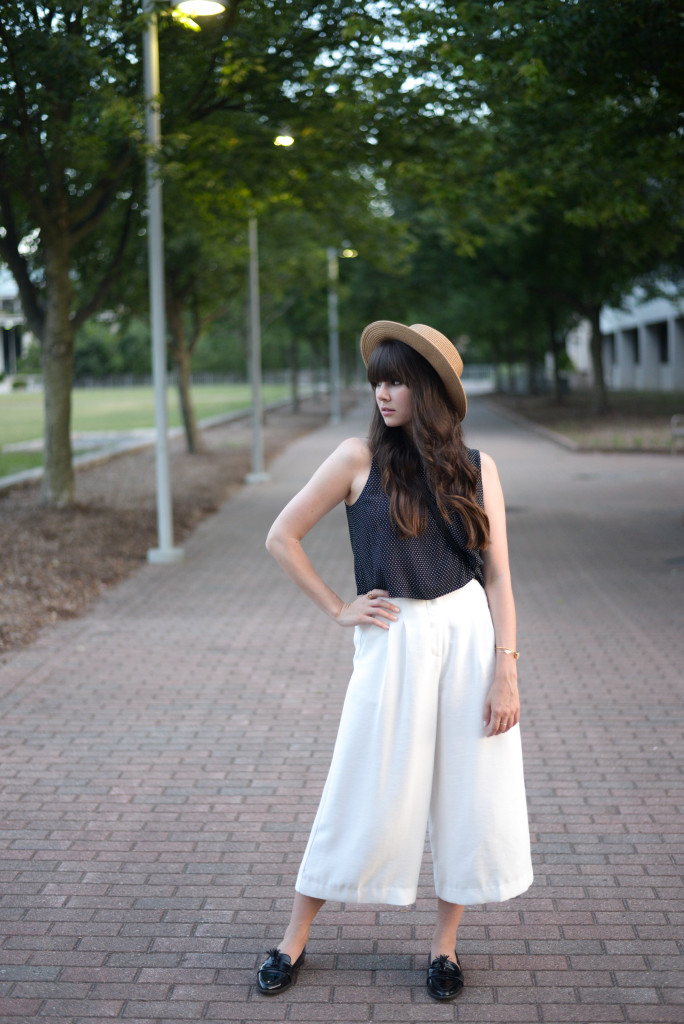 LOCATION: RALEIGH, NC
 If I'm being completely honest, the culotte trend was one of this season's trends I wasn't looking forward to. When I started seeing them creep into fashion shows and then slowly trickle down into stores, I suddenly had flashbacks of the jersey material gaucho pants that I sported all through high school. Needless to say, I was happy to leave those in my youth.
After putting off even trying on a pair for quite some time, I finally decided to give them a chance. After all, fashion is all about trying things once, taking risks, and pushing outside of your comfort zone. I thought culottes were going to be one of those things I tried on, decided they weren't for me, and pushed them aside, ready for the next trend.
After finding this pair during the Nordstrom sale, I decided there was no better time to give them a shot. What was the worst that could happen? Turns out, I'm completely in love. Culottes are just like wearing and styling a midi-skirt – but better! They are so comfortable and flowy, and I've already realized they are the perfect piece to dress up or down.
The day I received them I was already planning outfits and scoping out my next pair. What would I do next? A bold color, striped, lace, polka dots? The options are endless. I've linked my exact pair below (the white is sold out, but the navy is still available), as well as a few more of my favorites that may be added to my wardrobe soon!
Photos by Ryan Sides
---
SHOP THE POST
1. STATE TOP :: CHELSEA28 CULOTTES :: ASOS LOAFERS :: URBAN OUTFITTERS HAT :: MADEWELL BAG :: BANANA REPUBLIC RING (SIMILAR) :: MARAGRET ELIZABETH BRACELET C/O ROCKSBOX
ALSO LOVE: LINE & DOT CULOTTES :: FINDERS KEEPERS CULOTTES :: SHONA JOY BERLIN LONG LINE CULOTTES :: LOVERS AND FRIENDS CULOTTES
---