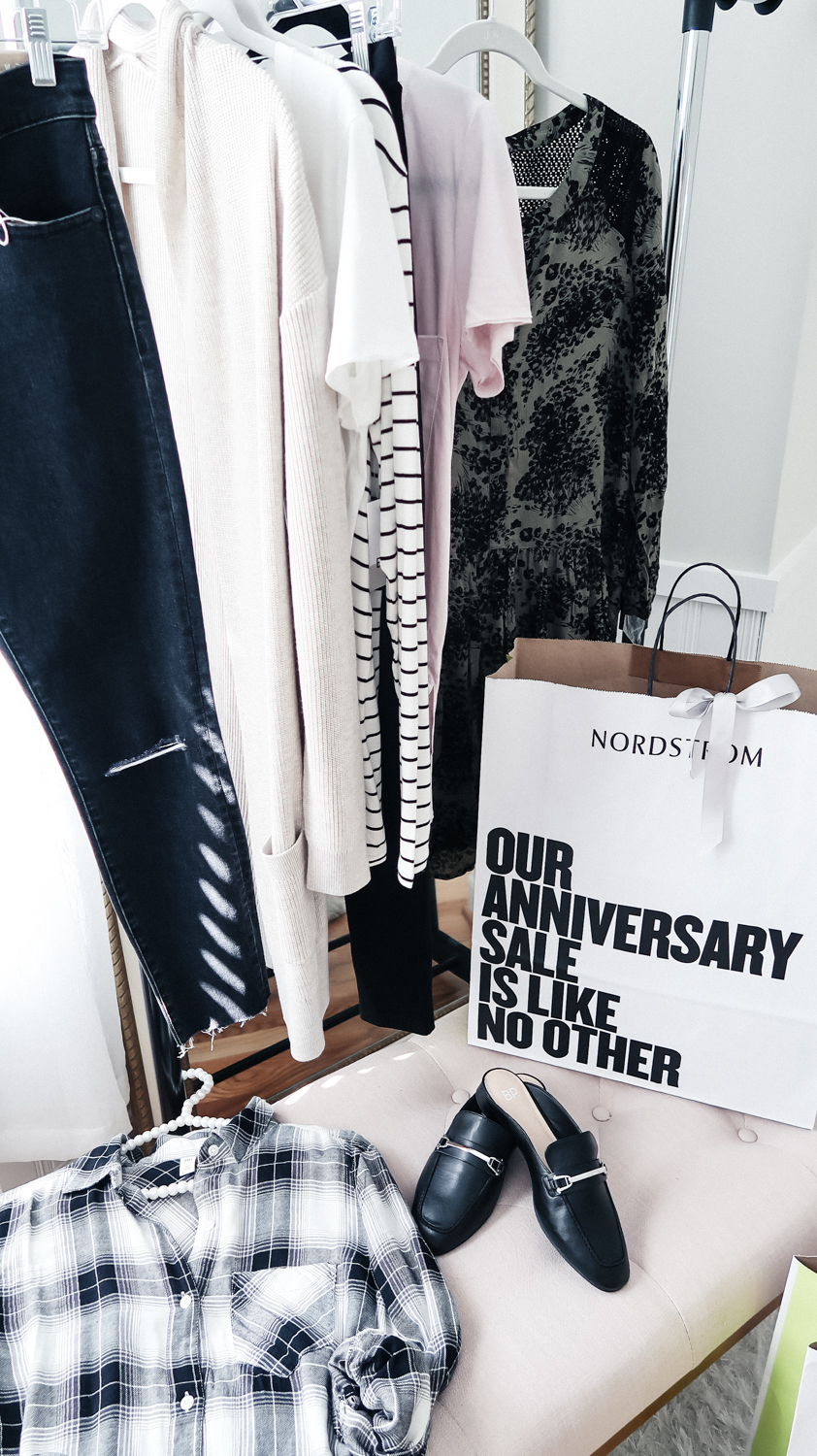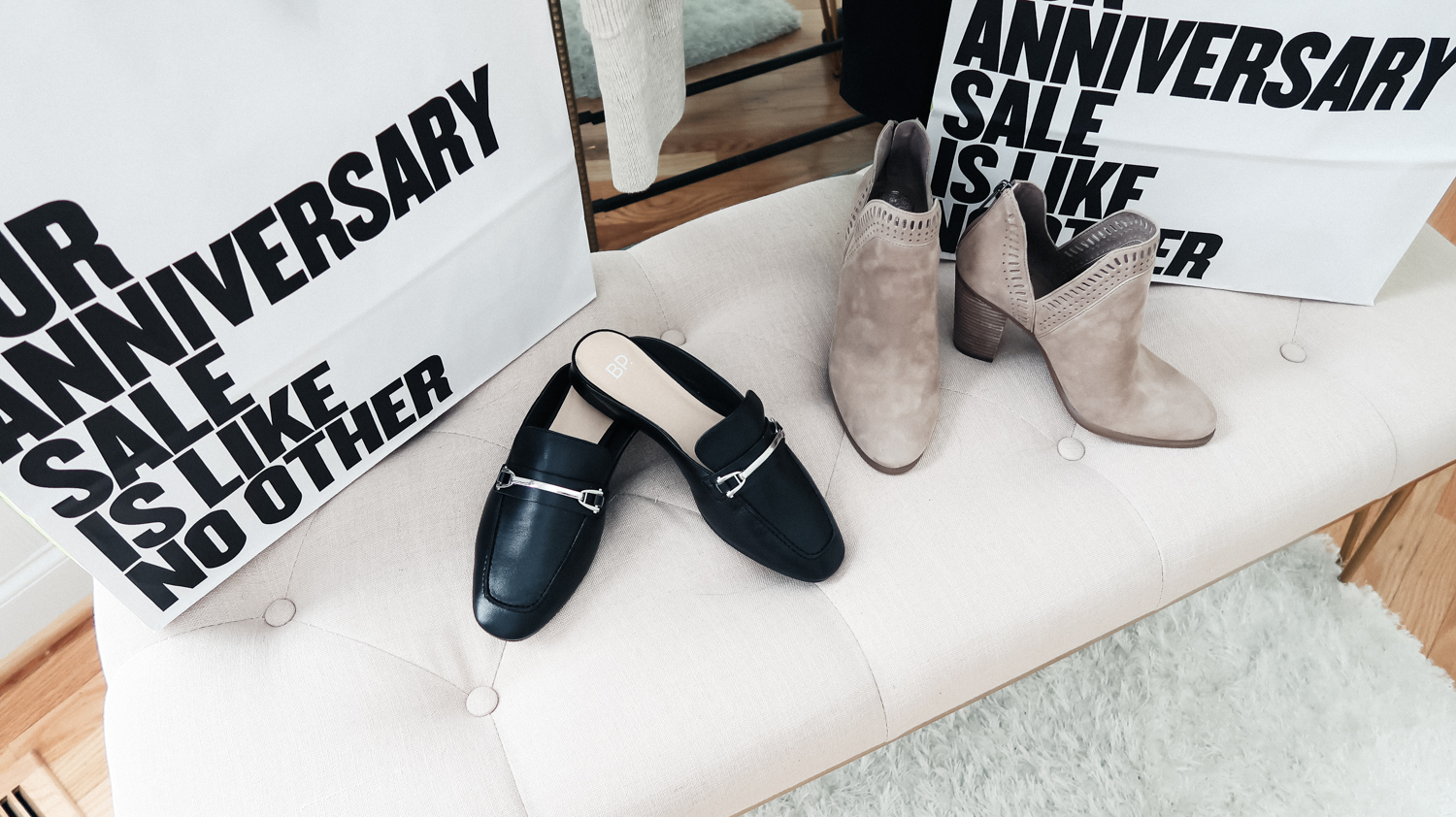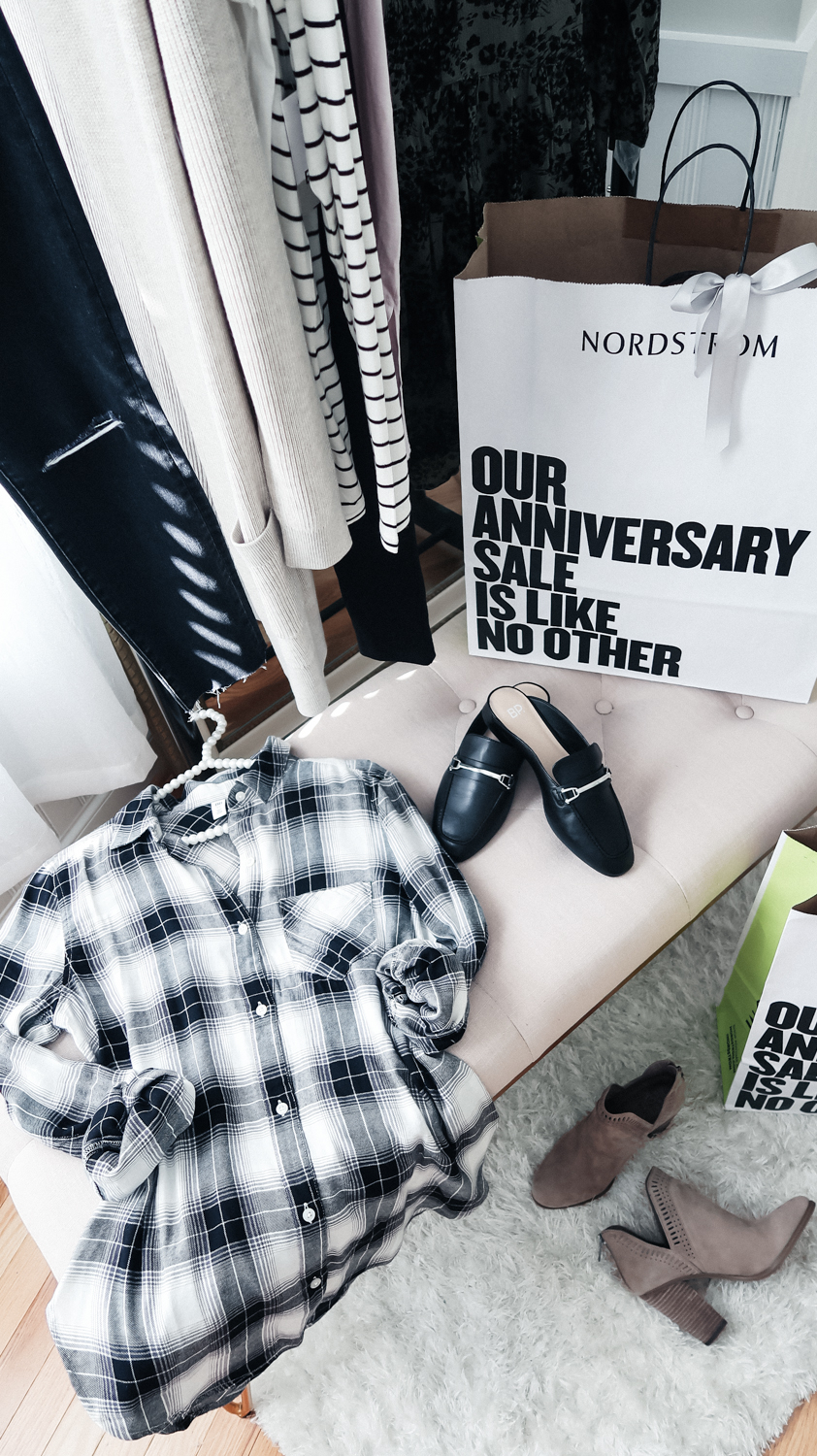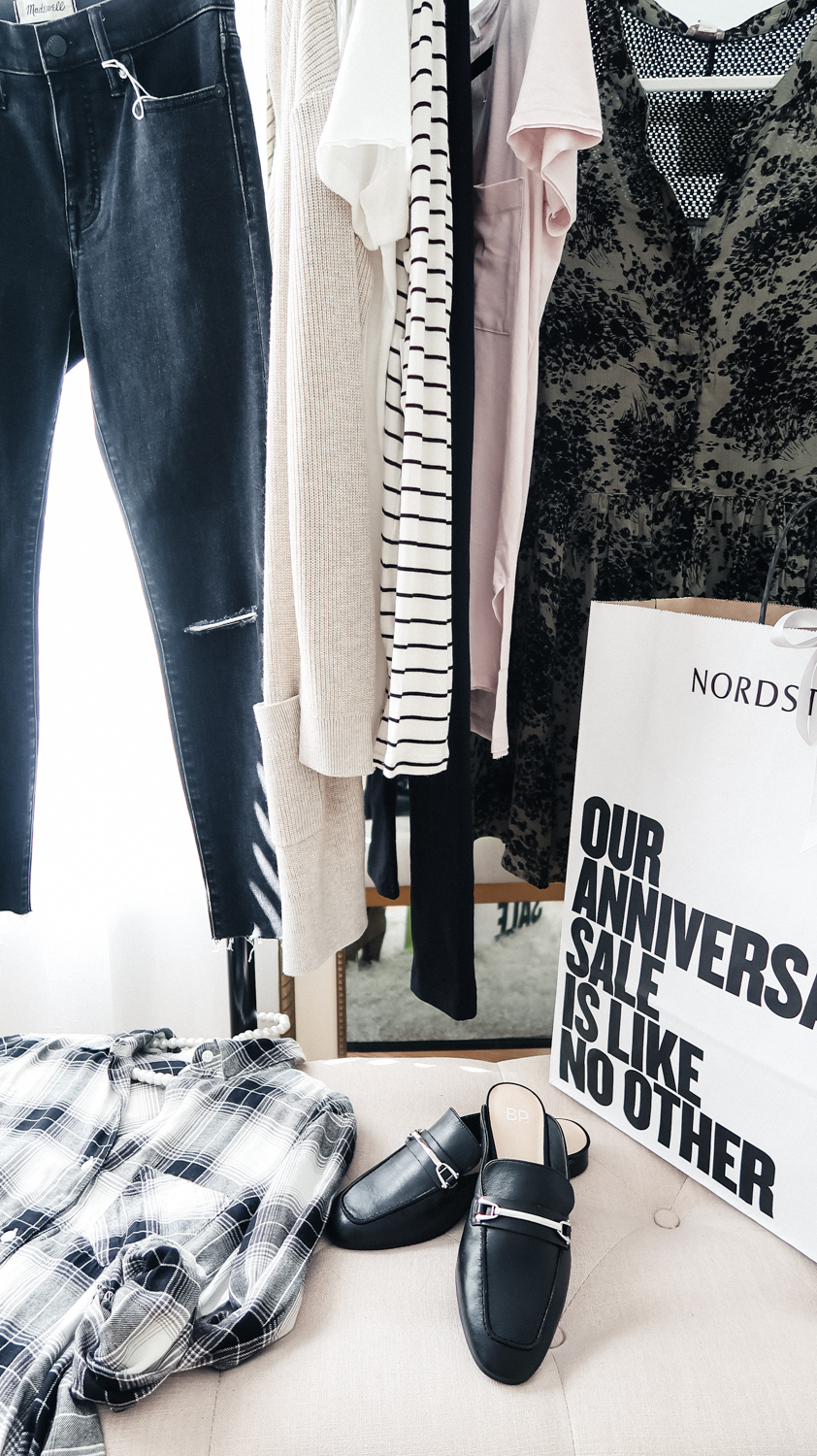 With the first few days of Nordstrom Anniversary Sale's early-access well under way, I've had a couple of days to shop the sale myself, get my first picks in the mail, and put together some thoughts on what I think are the best buys this year. This sale, though one of my favorites, can definitely be overwhelming. There's a lot to comb through, a lot of opinions about "the top five must haves" and just information overload in general.
Instead of putting together scrollbars with tons of options for pants, boots, sweaters, etc., I'm doing something a little more simple this year. Below you'll find what I personally tried on or purchased myself, and the items I felt like were worth pulling the trigger on. Please leave any comments you have regarding sizing, fit, or material below – as I mentioned these are all items I personally tried on and loved!
Sweaters & Tops
1 | BP. Rib Stich Cardigan | Sale: $31.90 / After Sale: $49.00 | Verdit: Purchased | Hands-down, one of the best buys of the sale. This sweater is the perfect length and super soft. I purchased last year's version in black, and it is still my go-to sweater in my wardrobe. This year I opted for the oatmeal color, but am tempted to go back for it in emerald green and grey. Highly recommend! Definitely runs oversized, but I still purchased my true size (XS).
2 | BP. Pocket Tee | Sale: $18.90 / After Sale: $29.00 | Verdict: Purchased | As of when I'm writing this, the striped version of this tee is almost sold out. If you can still get your hands on it, I can't suggest it enough! It's such good quality and super soft – this will be a staple and a go-to item in my wardrobe for layering all fall and winter. It runs loose fitting but pretty true to size – I opted for a small (instead of an XS) to give it some extra length.
3 | BP. Plaid Cotton Blend Shirt | Sale: $31.90 / After Sale: $49.00 | Verdit: Purchased | I dwelled over this top for the first day – I didn't buy it immediately and took a look at it in store, deciding it was just a basic plaid. By the next day, I was immediately regretting my decision to not purchase it (just incase it sold out later). I have since ordered one online and already can't wait to wear it on a mountain getaway with these leggings and these booties. I purchased a size XS and it fits true to size.
4 | Stripe Color Block Cardigan (now sold out online) | Sale: / After Sale: | Verdit: Love, but did not purchase | Going into the sale, this item immediately caught my eye. After watching repetitive stories of other bloggers buying this sweater however, I decided to opt out of adding it to my cart when I shopped the sale online at 3am when it went live. I decided to stock up on basics this year, and felt like this sweater was maybe not quite as versatile as #1, which I ended up purchasing and love. I tried out the sweater when I went into the store later that day, and can vouch for it being incredibly snuggly and soft. It does run large, but I still would say purchase true to size (I would have bought an XS). Highly suggest this item if it comes back in stock and you're looking for more of a "statement" sweater.
*Not Pictured: Lush Raw Edge Side Slit Tee | Sale: $15.90 / After Sale: $24.00 | Verdit: Purchased 2 colors | This is a great basic to stock up on during the sale. I always replace my white v-neck t-shirts during the #NSale, and couldn't resist picking up the sweet light pink color available this year. If you've purchased these in past years, I would definitely say this year's feel higher quality. They do run large – an XS still felt perfectly oversized on me.
Dresses & Bottoms
1 | Hinge Button Front Dress |Sale: $58.90 / After Sale: $89.00 | Verdit: Purchased | Much to my surprise, this was the only dress I purchased from the sale since I focused on getting basics this year instead of trendier pieces. However, Nordstrom had a similar dress to this one last year – and I regretted not purchasing it all fall! I love the knitted detail across the shoulder blades, and the oversized fit. It will be perfect with flats now, booties in the fall, and over the knee boots come winter!
2 | Madewell | Sale: $89.90 / After Sale: $135.00 | Verdit: Purchased | Madewell denim has always been on of my favorite fits – so when a pair was included in the sale, I couldn't resist! I love the distressing and raw hem – they are the perfect weekend jean. I'm 5'4 and these jeans actually fit like an ankle pant! I ordered my true size (26) and they fit perfectly.
3 | AG Legging Raw Hem Ankle Skinny Jeans | Sale: $149.90 / After Sale: $225.00 | Verdit: Did not purchase | I tried these on simply because everyone raves about them – I needed to see what the hype was about. However, I was completely underwhelmed by them. I found the calves to be too skinny, and they weren't high rise enough for my liking. In order to find a pair that fit my legs, I had a gap in the waistband (not cute). I can say they did feel very high quality, but the fist just wasn't for my body type!
4 | Sarah Skinny Jeans | Sale: $41.90 / After Sale: $64.00 | Verdit: Purchased, have yet to arrive and try on | I've been on the hunt for a medium wash pair of distressed denim – when I saw the price tag on these I knew I had to try them. I ordered my true size (26) and will do a review of them on Instagram Stories when they come in!
*Not pictured: BP. Essential Leggings | Sale $11.90 / After Sale: 19.00 | Verdict: Purchased | Nothing groundbreaking to say here – but these are a great pair of basic black leggings. My old ones were way tired, and a little see through, but these are nice and thick! I opted to go a size up (M) so that they came up higher on my waist.  Love them!
Shoes
1 | BP. Milo Loafer Mule | Sale: $52.90 / After Sale: $79.95 | Verdit: Purchased | As much as I'd love the Gucci version of these as an easy slip on for travel, they aren't a practical purchase for me right now. I tried the look-a-like Steve Madden ones, and unfortunately my feet were too wide. These, however, were a perfect fit! They run true to size and are incredibly soft. I'm already looking forward to wearing them on my next getaway in a couple of weeks!
2 | Vince Camuto Fileana Split Shaft Bootie | Sale: $99.90 / After Sale: $149.95 | Verdit: Purchased | These are on of my favorite purchases! I was worried they would sell out, so I threw them in my cart at the last minute, just incase. I ended up trying them on and LOVED them. They're so soft and comfortable, and look great with dresses and denim. I got my regular size in tan.
3 | Treasure & Bond Easton Chelsea Bootie | Sale: $79.90 / After Sale: $119.95 | Verdit: Purchased, have yet to arrive and try on (backordered until 8/1) | I've been looking for a basic pointed-toe Chelsea Bootie for years, and I love the pebbled leather on these. I'll be sure to update you on stories when they arrive how they fit/quality!
4 | Halogen Corbin Slide Loafer | Sale: $59.90 / After Sale: $89.95 | Verdit: Loved but not for me | These were the mules I actually went into the store for – but left with the BP. ones instead. I found these to be too narrow on me, and not quite as comfortable as the others. I love the neutral option, but they just weren't quite what I was looking for in a mule for travel.