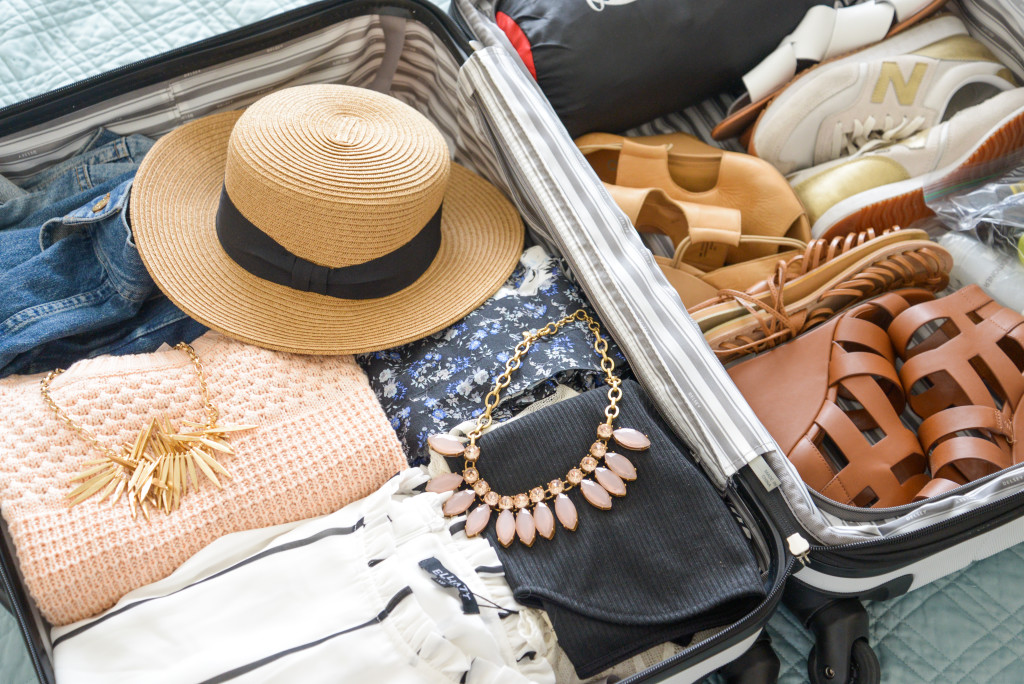 I've been so excited about this trip to California that I had started mentally packing as soon as we purchased our plane tickets. What would I wear in the vineyards, or walking on the coast of Big Sur? There were so many sundresses calling my name, and so the shopping began. But with the shopping came the need to stuff it all into one little suitcase. Packing doesn't have to be nearly as daunting or dreaded as it sometimes is – here are a few tips and tricks I've realized help make it stress free.
Make Plans It may sound obvious, but one of the most important parts of packing is the pre-packing. I always find it helpful to go into it with a plan in mind. Think through the activities you will be doing on the trip, and brainstorm potential outfits. It's not always necessary to lay them all out and admire them (though you certainly can), but it is important to select pieces that coordinate together and can be mixed and matched easily.
Start Early I'm sure starting early is always in everyone's plans, but packing usually gets put on the back burner until the night before the trip. For my trip this weekend, I started a couple of days early, and it's made the process less stressful. It's given me time to think everything through, and allow me to remember what things I had forgotten to pack, with time still left to pack them.
Neatness Counts It may be due to my years spent in retail, but folding clothes neatly has always come naturally to me. Ever notice how everything fits in your suitcase at the beginning of a trip, but you always ending up cramming it all back in with not enough room when you have to head home? It's because neat, perfectly folded clothes take up less space than crinkled ones. For denim, fold it into thirds. For tees and blouses, tuck the arms beind as neatly and as flat as possible, and fold. It will make a huge difference and give you tons more space!
Accessorize Now that you've folded your clothes neatly and have all of that extra space, it's time to add in your accessories! Picking fun shoes, scarves, and sunnies can help keep every outfit you wear looking fresh and different, even with your limited travel wardrobe. My go to travel accessories? A cute pair of sandals, nude wedges, sneaks for exploring, a hat, two sunnies, and two purses: one tote and one crossbody.
Love Your Luggage Prior to this trip, I went on the hunt for some new luggage. I eventually ended up with luggage by Delsey Paris, and the anticipation of filling this beautiful suitcase has made me more excited about packing. It made me want to put effort into making it neat and presentable, and moved packing up a couple notches on my priority list. It may sound silly, but having fun luggage and accessories (like tags and passport covers) makes packing so much more fun. Plus, who doesn't love having a pretty suitcase to roll through the airport?